Standard Bank/Chenin Blanc Top Ten Challenge 2018
2018 Standard Bank Chenin Blanc Top Ten Challenge Winners

Pure fruit, more texture, greater structure, versatility and pushed boundaries is what Chenin Blanc is all about. True to form, that is what the Standard Bank Chenin Blanc Top 10 Challenge uncovered at this third successive competition.

SNews of the Standard Bank Chenin Blanc Top 10 Challenge winners for 2018, featuring five newcomers and five regulars, comes in the wake of unprecedented optimism in the grape variety.

"Chenin has come of age," said chairman of the Chenin Blanc Association, Ken Forrester. "No longer just a niche grape loved by of the wine fraternity, it is acquiring a mainstream following. More and more people are believing in it, buying it, drinking it and talking about it," he said referring to the record number of entries in this year's challenge, the growth in sales of Chenin Blanc this year, and the global reach of a recent social media campaign.

He said this year's 159 submissions represented an increase of 17% on the 2017 challenge entry numbers, while year-on-year, local sales and exports of Chenin Blanc varietal wines are on the rise. Forrester also highlighted the success of the #DrinkChenin day social media campaign to mark June 15 as International Chenin Day that generated 4.9 million impressions.

"The versatility of Chenin, its diversity of wine styles and its great food-friendliness, all point towards its rising acceptance among local consumers. This is in line with the growing international interest in the grape, increasingly seen abroad as South Africa's calling card."

South Africa has more Chenin Blanc under vine than any other country in the world.

The challenge drew 113 wooded and 46 unwooded entries, all tasted blind by the five-member panel, with 27 wines shortlisted for the final top ten line-up.

Cathy van Zyl MW, the chairman of the judges, said that the winning wines were largely but not exclusively sourced from older vineyards. "While one of the winners comes from 12-year old vines, the others come from vines that are older than 27 years. Indeed, the oldest vineyard in the line-up is 65-years' old."

Fruit for the winning wines was sourced from as far afield as the Cederberg, Stellenbosch including Bottelary and Faure, Darling, Elgin, Durbanville, the Swartland, specifically Voor-Paardeberg, Perdeberg, Malmesbury, Tygerberg, Slanghoek, Wellington and Bot River.

UK wine consultant Simon Field MW, a specialist on wines from the Loire in France, where Chenin originates and the only foreign judge on the panel, was impressed with the line-up of what he called very polished, palatable and professional wines and their multiplicity of expression. "A definitively South African Chenin style was apparent to me - riper, more fruit-forward and floral, with qualities of nectarine and other yellow fruit, some beeswax and honey. The whole experience gave me a fascinating new perspective on Chenin."

Pointing to the availability of Chenin excellence at accessible prices, Willie du Plessis, Standard Bank SA's executive head of business banking for the Western Cape, noted that the average price of the top 10 wines was R200. "These world-class wines offer outstanding value, with winners retailing at R70, R90, R120 before rising to the highest price of R375."

He confirmed a prize of R25 000 for each of the winning wines. The money would need "to reinforce economic and social benefits in the workplace", in accordance with the conditions of the challenge. "We believe the honour of making it onto the Top Ten list should extend to the workers as well as the brand owners."

The winning wines listed alphabetically are:

• Cederberg Private Cellar Five Generations Chenin Blanc 2016
• DeMorgenzon Reserve Chenin Blanc 2017
• Jean Daneel Wines Signature Chenin Blanc 2016 (debut)
• Leopard's Leap Culinaria Chenin Blanc 2016
• Mulderbosch Vineyards Chenin Blanc Steen op Hout 2017 (debut)
• Slanghoek Wynkelder Legends Barrel Fermented Chenin Blanc 2016 (debut)
• Spier Wines 21 Gables Chenin Blanc 2017
• Stellenrust '53' Barrel Fermented Chenin Blanc 2017
• Wellington Wines La Cave Chenin Blanc 2016 (debut)
• Wildekrans Barrel Select Chenin Blanc Reserve 2017 (debut)

Spier has featured amongst the Top Ten every year since the inception of the challenge in 2014 and DeMorgenzon, every year since 2015. Stellenrust has been in the line-up every year since 2014, with the exception of 2016. This year marks the third time Leopard's Leap has appeared.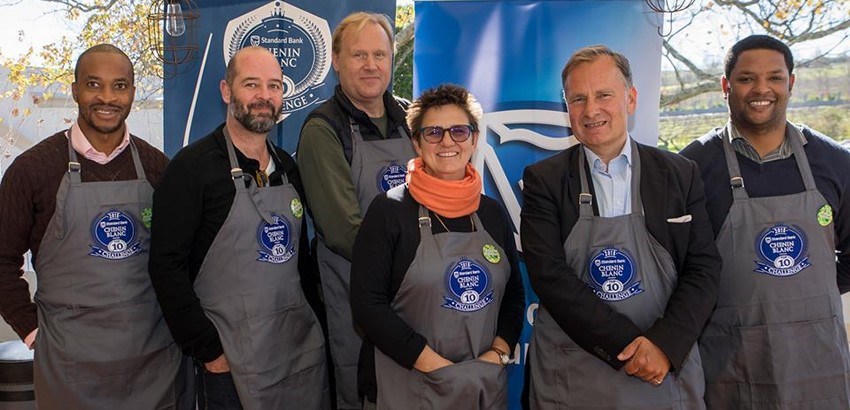 The judging panel of this year's Standard Bank/Chenin Blanc Top 10 Challenge comprised (from left to right): Tinashe Nyamudoka, James Pietersen, Richard Kershaw MW, Cathy van Zyl MW (chair), Simon Field (MW) and Spencer Fondaumiere (associate judge).
More about the winning wines:

Cederberg Private Cellar Five Generations Chenin Blanc 2016
Price R225
Winemaker David Nieuwoudt
General
Oak Barrel fermented, aged 11 months – 33% new
Vines 12 years' old
WO Cederberg
Tasting notes
Bright and full of verve with tropical fruits and a bouquet and flavours of citrus, a saline hint and rich, long finish, overlaid with vanilla detail.
Chemical analysis
Alc 14%
RS 3.8g/l
TA 6.7g/l
pH 3.48

DeMorgenzon Reserve Chenin Blanc 2017
Price R375
Winemaker Carl van der Merwe
General
Oak Barrel fermented, aged 10 months – 20% new
Vines 46 years' old
WO Stellenbosch
Tasting notes
Complex ginger-spice nose, with a hint of crème fraiche and white peach; layered complexity from interplay of oak and fruit, enlivening acidity, dry and pithy conclusion.
Chemical analysis
Alc 14.4%
RS 3.7g/l
TA 5.9g/l
pH 3.34

Jean Daneel Signature Chenin Blanc 2016
Price R269
Winemaker Jean-Pierre Daneel
General
Oak Barrel fermented, aged 12 months – 20% new
Vines Between 35 and 65 years' old
WO Western Cape (Stellenbosch, Malmesbury, Perdeberg)
Chemical analysis
Alc 14.5%
RS 2.6g/l
TA 6.2g/l
pH 3.41
Tasting notes
Initially quite closed, opening up to a yellow cling peach and spice nose, very well composed with a rich and vanilla-driven palate, lifted by bright fruit and fresh acidity.

Leopard's Leap Culinaria Chenin Blanc 2016
Price R90
Winemaker Renier van Deventer
General
Oak Barrel fermented, aged 9 months – 2nd and 3rd fill
Vines Average age 20 years
WO Western Cape (Voor-Paardeberg)
Tasting notes
Very expressive, honey and white peach nose opens onto orange and other citrus aromas, beautifully textured with a decent grip and satisfying dryness.
Chemical analysis
Alc 13.5g/l
RS 3.3g/l
TA 6.5g/l
pH 3.29

Mulderbosch Chenin Blanc 'Steen Op Hout' 2017
Price R70
Winemaker Adam Mason
General
Oak 100% stainless steel fermented, 28% aged in barrel – 2nd and 3rd fill
Vines 60% 30+ years' old, 40% 20-29 years' old
WO Western Cape (Stellenbosch, Darling)
Tasting notes
A slow burner, it needs time to unfold and show its charm. Wet stones and faint orange blossom, bright acidity with lovely weight and lingering mineral finish.
Chemical analysis
Alc 13.5%
RS 2.3g/l
TA 5.3g/l
pH 3.61

Slanghoek Legends Barrel Fermented Chenin Blanc 2016
Price R196
Winemaker Nico Grundling
General
Oak Barrel fermented, aged 26 months – 100% new
Vines 29 years' old
WO Slanghoek
Tasting notes
Charming and elegant jasmine delicacy on classy fresh orchard fruits, purposeful, well integrated and exceedingly long with deftly handled oak.
Chemical analysis
Alc 13.8%
RS 4.7g/l
TA 5.4g/l
pH 3.51

Spier Wines 21 Gables Chenin Blanc 2017
Price R198
Winemaker Jacques Erasmus
General
Oak Barrel fermented, aged 14 months – 60% new
Vines 33 years' old
WO Coastal (Tygerberg)
Tasting notes
Pretty with apple blossom, orange and bruised apple. Ripe and very structured on the palate, well-handled oak detail and steely palate, rich but exceedingly fine.
Chemical analysis
Alc 14.74%
RS 4.6g/l
TA 6.0 g/l
pH 3.40

Stellenrust '53' Barrel Fermented Chenin Blanc 2017
Price R200
Winemaker Tertius Boshoff
General
Oak Barrel fermented, aged 9 months
Vines 53 years' old
WO Stellenbosch
Tasting notes
Initially restrained, opens onto marzipan and white orchard fruit; vibrant and bright with integrated oak and a pleasant "off-piste" bitter lift and salinity on the finish.
Chemical analysis
Alc 14.1%
RS 4.4g/l
TA 7.9g/l
pH 3.21

Wellington Winemakers Selection La Cave Chenin Blanc 2016
Price R120
Winemakers Erik van Wyk, Francois van Niekerk
General
Oak Barrel fermented, aged 12 months – 100% new
Vines 27 years' old
WO Wellington
Tasting notes
Pure fruit expression with key lime pie, peach and apple with ripe papaya and other tropical fruits on the palate. Well-integrated and smooth, very long and genteel sweet impression on the finish.
Chemical analysis
Alc 13.5%
RS 2.8g/l
TA 5.9g/l
pH 3.56

Wildekrans Barrel Select Reserve Chenin Blanc 2017
Price R265
Winemaker Braam Gericke
General
Oak Barrel fermented, aged 12 months – 30% new oak
Vines 36 years' old
WO Botriver/Walker Bay
Tasting notes
Subtle spice with white peach, salty orange and florals, wet clay lift, bright and balancing acidity, long and fulsome yet with a sense of lightness of being.
Chemical analysis
Alc 13.0%
RS 4.2 g/l
TA 8.8 g/l
pH 3.26